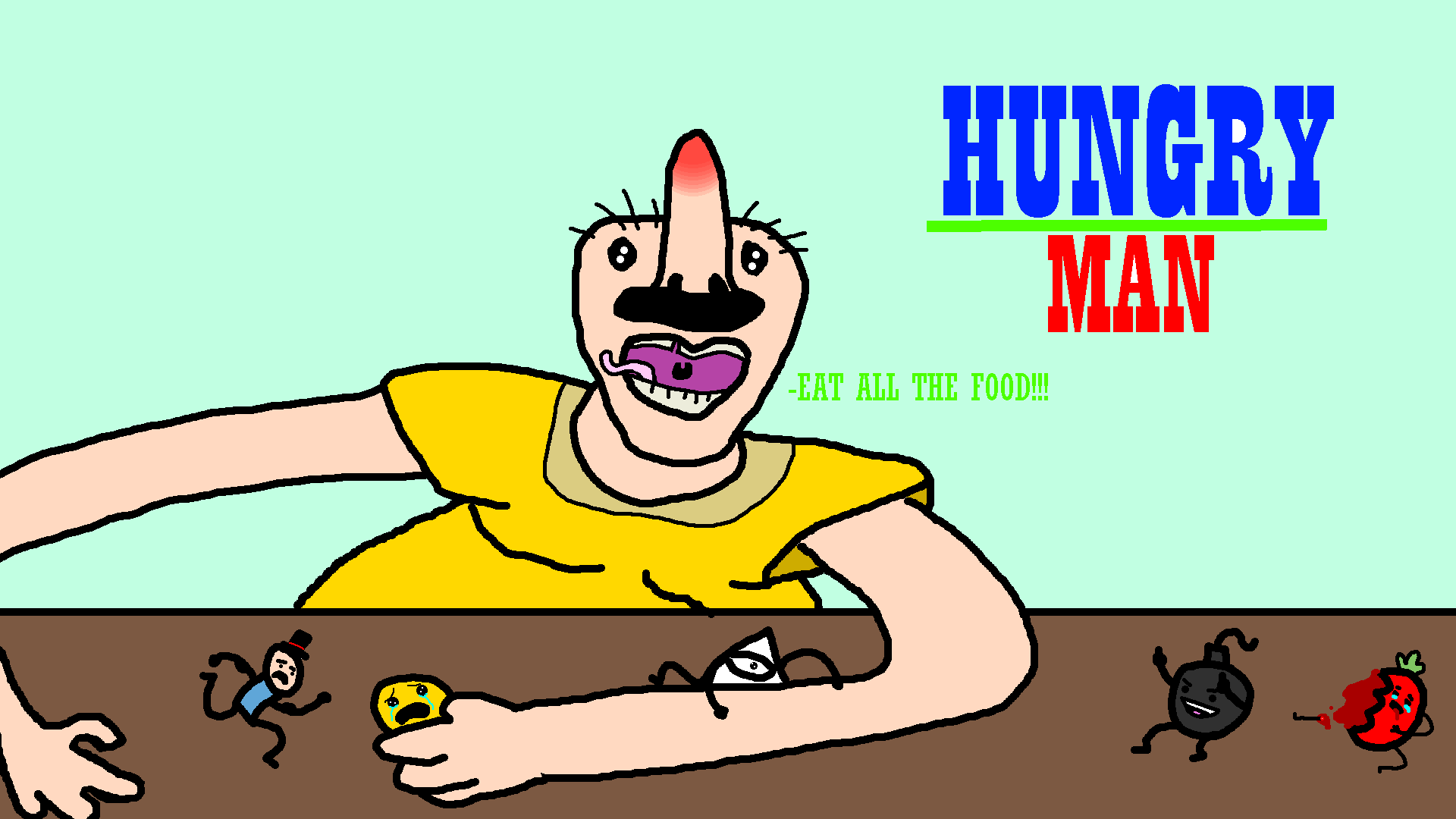 Hungry Man - {12 Hour Collab Project}
A downloadable Consuming Emulation for Windows
Hungry Man is a collaborative effort between Protohm Games and Protohm Dweller as they search for the true meaning behind eating.
This experimental look at the drive behind our human condition brings a terrifying question to mind: What could it be like, to experience life through the eyes of a man who cannot stop consuming items?
Well humble explorers, today we allow you to immerse yourself into the life of Hungry Man; food connoisseur extraordinaire!
The controls are quite simple!
Just navigate the screen with your mouse.
Every button on your mouse (including gaming mice) can preform up to 5 actions! Experiment! Try things out! Also, don't forget that each and every item has about 6 randomized quotes each, so remember that it doesn't hurt to try things multiple times!
Objects are randomized from a pool, so remember that what the screenshots show do not reflect the sheer amount of items added in.
Escape will immediately kick you out of the game, so be careful please.
---
This game was completed in under 12 hours as a part of the remake challenge we established the day before while looking back at some of my old/terrible games.
We wanted to try and evoke something like the original game, Hungry Boy but also add some more effects, polish and detail to it. Hopefully, you'll enjoy this little experience!
---
CREDITS:
Yung Venus (Y.V) is owned by Vlambeer. Yes, he makes an appearance in this game as food.
All music is a part of the Ren and Stimpy soundtrack.

Workaday World,
Tom Fool,
and Happy Go Lively.
Font is PCSenior by CodeMan38
Artwork was entirely done by Protohm Dweller: (https://twitter.com/ProtohmDweller?lang=en)
Programming and game by Protohm Games: (https://twitter.com/ProtohmGames?lang=en)
And Protohm Pyro, for helping us create more quotes for the food items as well as providing moral support: (https://twitter.com/Tmzhotrod?lang=en)

Thank you!
Install instructions
ADVICE: Extract the .zip to anywhere you please and begin your glorious adventure into the wide world of eatery!